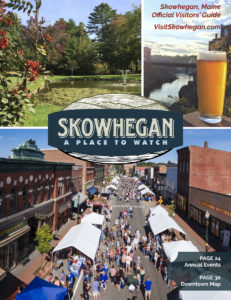 Main Street Skowhegan and the Skowhegan Area Chamber of Commerce are collaborating on a full-color, magazine-style visitors' guide for the area.
This 40-page (plus or minus) guide will be available at rest stops around the state of Maine; at the Skowhegan Area Chamber of Commerce; at businesses, motels, and campgrounds in southern Somerset County; and as a PDF on the Main Street website and VisitSkowhegan.com.
Robust and visually appealing, this guide will showcase all the Skowhegan area has to offer, including restaurants, breweries, lodging, historical sites, recreation, arts and culture, agricultural experiences, family activities, events, and more.
Data from the Maine Office of Tourism shows that tourists seek out brochures and travel guides, so having a vibrant and informative guide will entice tourists to visit and stay awhile in the Skowhegan area.
Interested in advertising in the guide? See our advertising opportunities.